Rolling Shutter
A roller shutter, roller door or sectional overhead door is a type of door or window shutter consisting of many horizontal slats (or sometimes bars or web systems) hinged together. The door is raised to open it and lowered to close it. On large doors, the action may be motorized. It provides protection against wind and rain. In shutter form, it is used in front of a window and protects the window from vandalism and burglary attempts.
Rohit Aluminium
supply high-quality manual and automatic (motorized) Rolling Shutter. Motorized rolling shutters adds to extra comfort in any home or office. They contribute to the ambiance of your room and give complete privacy whenever you desire. Rolling shutters and motorized rolling shutters effectively reduce heating costs.Our motorized/manual rolling shutters will supplement the security and protection of any type of premises.
We ensure the best quality material for our products and a skilled fabrication for a durable and attractive finished product. We are one of the premier manufacturers and suppliers of all types of rolling shutters which can be manually operated as well as motorized shutters and automatic electric sliding type rolling shutters as per the requirement in Mumbai.
Applications
Rohit Aluminium rolling shutters are extensively used for a wide range of applications like windows, doors, serving areas, kitchens, park parking, offices, shops, warehouses and another establishment. Rohit Aluminium is a leading supplier of motorized shutters in Mumbai offering a quality range of rolling steel shutters. Our range of roll gives reliable performance and acclaimed for trouble free operation, privacy and security, corrosion resistant, easy to install and low maintenance. In areas that are frequently exposed to inclement weather, roller shutters are used as a method of insulation and can protect windows against hail damage.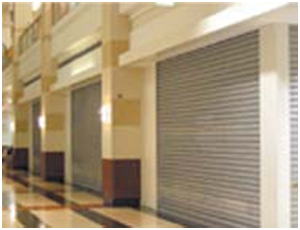 Smooth Noiseless Function
Easy and fast Installation
Suitable for both new and existing shutters
IP Level 54
Electro magnet brake help as anti fall system
Wide range of model available from 150 to 1000 kg
Easy manual override incase of power failure
No bulky visible outside. Thanks to compact model
Types and operation
Built-in Roller Shutter Doors
Describes the type where the roller shutter box is fixed to the exterior of the building facade.
Built-in Roller Shutter Doors
Where the roller shutter box is built into the lintel above the window.
Integrated roller shutter
A roller shutter and window combined as a single unit.
Roller shutter with tilting laths
A roller shutter with paths that tilt, similar to an external Venetian blind.
Manual
With gear drive from the shutter roller traced through the building facade to a universal joint on the room side that is operated by a cranked winding handle.
Manual tape
A tape drives around a flange on the roller is traced through the building facade with pulley guides to an inertia reel on the room side.
Electric
With a tubular motor fitted within the roller. Automatic operation can be added.
Fire Shutter
Can either be manual roller shutter or electric roller shutter, which uses Woods Metal and a weight bar to close the roller shutter or can be linked to Fire Alarm System to close automatically on event of fire alarm activation.